Top Tips for Visiting Macau with a Baby/Toddler
There's absolutely no reason you shouldn't visit Macau with a baby or toddler, but there are a few things to be aware of before you go which may make your visit easier. I'm writing this from experience. My son was born in Macau last year so I've recently had to get to grips with all the extra little hurdles you encounter when trying to navigate getting around this busy city with a tiny, squirming, pooping bundle of joy.
I thought I'd jot down a few of my top tips on the off chance it may help someone else who is pondering the question – 'should I visit Macau with a baby'.
1. First point – the Chinese love babies
First thing to note is – the Chinese love babies. It's in their DNA. Families are hugely important in Chinese culture, and babies are cornerstone of any family. Expect to get loads of people checking your little one out as you walk around or sit in a restaurant. Hair ruffles, coos and cheek pinches are all common. Especially if you are 'gwai lo' (western) (or mixed in, my sons case) – I think there's a certain novelty factor there. I think this is true for native Macau residents and mainlanders. Last time I was on the Hong Kong ferry, little man was having a bad time of it and screaming and squirming a lot – playing with the tray on the seat in front despite my best efforts to stop him. The young(ish) people in the seats kept half turning their heads – I thought they were getting annoyed (and I sympathised totally), but when it was time to get off, they were smiling and joking with him (they had only been looking round to get a better view of him).
2. Baby changing facilities
No way around it – there are very few dedicated baby changing facilities in Macau. We spend most of our time in the UK, and virtually everywhere you go there has a baby change table in a washroom (and you'll usually find a tale in the disabled toilet if there's no dedicated baby room). Not so in Macau. You'll find facilities like this in the bigger modern casinos, but don't expect to find them in restaurants (even places like Pizza Hut). Even the main department store, New Yaohan doesn't have any baby change facilities (despite having automatically opening toilet doors). Macau Tower has one disabled/baby change toilet on the lower ground floor – but when we tried it last we couldn't get in due to a staff member taking a cigarette break in there (which we reported when we finally saw him come out, having in the meantime just done a quick change on a free bench).
This initially seemed a bit strange, as the Chinese people are so big on families kids. It's a similar situation in Hong Kong. I'm not sure why this is – maybe lack of space for dedicated facilities in many places, which spilled over to a cultural thing in other places where there is space (it can be frustrating to find a disabled toilet, with ample room, but no baby change table or even a flat surface to utilise for a quick nappy swap).
All it means though is that you just need to get a bit creative with where you change the baby. As everyone's in the same boat, people are more accommodating for changing your baby anywhere you can. If you're in a restaurant – you can just change him/her in the buggy by the table, or just pull two chairs together to form a makeshift changing table. I'm still a bit squeamish about changing next to other people eating – so still prefer to find a quiet corner somewhere. Usually if you ask the staff they will be very helpful. Dim Sum restaurants often have private rooms which they will let you use if they are unoccupied.
The art of being able to change a baby on your knee is very useful also. I've seen mothers just whip off a quick nappy change on their knee in restaurants and waiting rooms without skipping a beat. I haven't quite got that mastered yet – I'm too used to having the baby mat and all accoutrements to hand, which can make a quick knee change a bit unwieldy. Really all you should need is a baby, nappy, wet wipe and you're good to go.
Another option is an outside bench – there are loads of small parks around Macau and it's not difficult to find a park bench or low wall to do a quick change.
Bottom line – there aren't many dedicated baby change facilities its true – but that just means you have to get a bit creative. Just remember everyone is in the same boat, and just about everyone will be sympathetic to your needs.
3. Road safety – pedestrian crossings
This point is true if you have a baby or not, but you need to be especially aware if you're pushing a buggy. Use pedestrian crossings when crossing any road – but just be aware that the rules for these are a bit 'relaxed'. Traffic should stop for pedestrians when you start crossing, but this isn't always the case. The general unwritten rule seems to be that pedestrians tend to wait for a natural break in the traffic flow before starting to cross. This isn't too bad once you get used to it – if there are few cars close, just let them all go by before starting to cross – any new cars will then stop for you. Just restrain any natural instinct that you have priority over cars. Really busy crossings tend to have traffic lights anyway. Jaywalking seems to be ok, but the convention for most people is just to use the crossings – which is obviously advisable if you have a small child anyway.
4. On the buses
Buses are fine, but its really a case of use your common sense as to how painless your journey will be. There are red priority seats at the front of each bus – and people will usually give them up if you have a baby or are old or disabled.
There are two types of buses – larger (normal sized buses), and smaller, shuttle type buses. You can take a buggy onto the larger buses (you'll have to lift it on and off to get up the lip), but you couldn't get one in the smaller buses.
You may also want to consider how busy the bus is. Buses can get very crowded. Even a folded buggy can be difficult at these times, and you may not get a priority seat (if there are many elderly people on there).
So really – it's just a case of using common sense when visiting Macau with a baby. If the buses are reasonably quiet – they are fine. If they are packed, I'd suggest get a taxi (or walk – if you're on the Macau peninsula – most places are walkable).
See our guide to Using the Buses in Macau for more details. I'd really recommend picking up a Macau Pass if you plan to use the buses much – it's much easier to flash a card against the reader than fumble about for change when getting on.
5. Emergency supplies
What if you run out of baby food or nappies? The main pharmacy chains, Watsons (the blue one) and Mannings (the orange one) sell these (as do the many small supermarkets dotted around). Watsons are the biggest pharmacy in Asia, and Mannings have stores in Hong Kong and Macau.
There are also all the usual coffee chains in the main tourist spots and large casinos who would be happy to refill a flask with hot water.
6. Things to do in Macau with a baby/toddler?
Most things are doable when visiting Macau with a baby (well, just about – I'd probably advise against doing a bungee jump from Macau Tower). 
Things my little one has really enjoyed the most I'd say (aside from an excellent playgroup, but that's only available to Macau citizens) was probably the public play areas. They are in most parks – try Saint Francesco Garden, just by the Grand Lisboa casino – if you walk up to the top area there is a great little play area with slides and swings.
Or Jardim Da Flora. Have a walk around the bottom, see Bobo the Bear (if he still makes an appearance) – and take the cable car up Guia Hill. At the top, just by the cable car is a large play area for kids to run around. You can also walk around to see Guia Fortress and Lighthouse.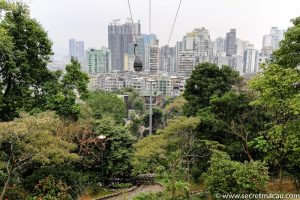 Other than that – head up to the Cotai strip for some air conditioned casino luxury. I'd recommend the free cable car up to Wynn Palace for a bit of fun and drama for a little one (you can take buggies on).
Or head further up to Coloane village and check out the Panda Pavilion to see the see the Giant Pandas (and more animals), you can have a walk around the larger Parque De Seac Pai Van).
Conclusion/TL;DR
There is absolutely no reason why you shouldn't visit Macau with a baby or toddler. However, just be prepared to be flexible in where you do nappy changes and how you get about.