Flower City Park is a small, picturesque, Chinese-themed walled park in the centre of Taipa. Surrounded by tower blocks on 3 sides and a road on the fourth, it provides a tranquil getaway from the hustle and bustle of the city.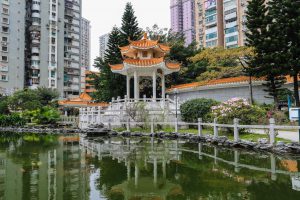 The park is arranged around a large landscaped pond, filled with large goldfish and Lotus blooms and surrounded by plants and trees. Paths snake around the lake, and pass through small stylised rock arches, with covered seating areas in the style of pagodas around the edge of the pond.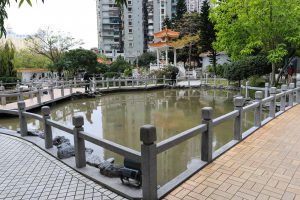 It sits on the Avenida Olympica, next to the bus stop of the same name (one of the main stops in Taipa). On weekends and holidays it can be busy with families (there are children's play areas around the edges). The close proximity of the road and the bus stops means there are always people milling around.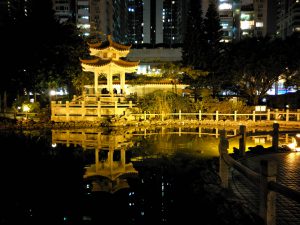 I wouldn't go out my way to see it, but if you're passing it's well worth a look inside to see the fish. It's a great photo opportunity with the fish, pagoda and reflections of the high rise blocks in the water. There's also a Park'n'Shop supermarket nearby, and lots of small shops and food stalls located close.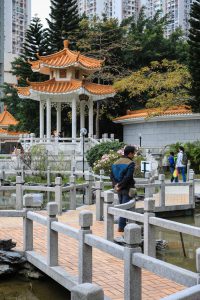 The bus stop itself is handy for Taipa centre, and also for Taipa village – just a short walk over the over side of the road (just head towards the clearly visible casinos of the Cotai Strip and you can't go far wrong).
There is a supermarket in the small mall next door, and bakeries/food and drink stalls are all aroudn this part of Taipa.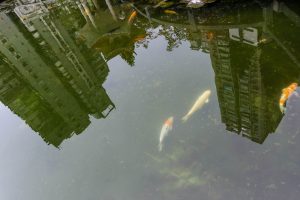 Getting There
Buses: not limited to, but including 22, 25X, 28A (there are many bus stops outside)
It roughly sits between Taipa centre and Taipa village, and is a short walk from both. The Galaxy casino is just over the road from Taipa village and can also be walked to easily.
Nearby Attractions
Cotai Strip
Taipa
Taipa Village
Flickr Album

Flickr Album Gallery Powered By:
WP Frank