Vasco Da Gama Garden is a small garden built at the end of the 19th Century.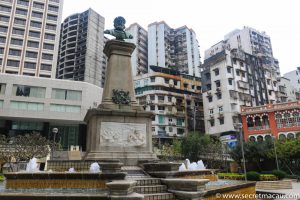 There is a swimming pool next to the garden, called "New Garden Swimming Pool" in Chinese due to it's location next to the garden (though it is also known as the "Estoril Swimming Pool" from the Portuguese)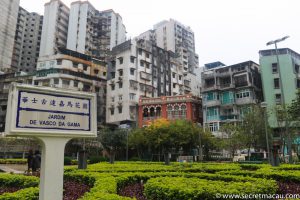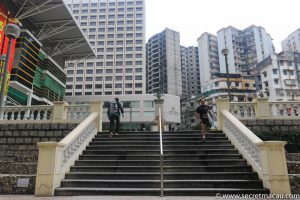 Duel between Wu Kung Yi and Chan Hak Fu
The Estoril Swimming Pool was used as the location of a famous fight between two martial arts masters in 1954. The charity event was arranged by Ho Yin, a commity leader, to raise funds for the many people in Hong Kong who had been left homeless following a fire in the Shek Kip Mei shanty-town in Hong Kong.
The event was to be a duel between Wu Kung Yi, a Tai-Chi master, and Chan Hak Fan who was a master of the White Crane style of kung fu. It caused a great sensation, and drew a crowd of over 10,000 spectators. The fight only lasted a few minutes and was stopped in the second round as a draw. The full video is available in the link below. A bit tame by today's UFC standards, the fight nevertheless raised MOP270,000 for the the Shek Kip Mei residents.
Getting There
Buses: 2, 2A, 7, 7A, 12, 18A, 19, 22, 25, 25X, 8, 8A, 18, 4, 9, 9A
Nearby Attractions