Macau Grand Prix (and Museum)
The Macau Grand Prix (Museu do Grande Prémio, 大賽車博物館) is held on the second or third weekend of November each year, and is the only street racing circuit where both cars and motorcycle races race on the same city track.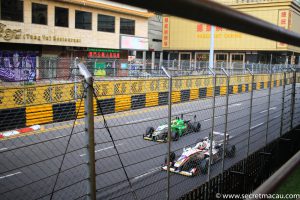 The event dates back to 1954, when it was originally set up as a treasure hunt around the streets of the city. It was then opened up as a racing event for local enthusiasts, and continued as an amateur race until 1966, when Belgian driver Mauro Bianchi won the event. His victory and exposure led to more professional racing teams taking part in subsequent years.
Now it includes production cars, touring cars, motorcycles and GT3.
The highlight is the Formula 3 Grand Prix – the winner of which is awarded the FIA Formula 3 World Cup. The first F3 race was won by a young Ayrton Senna, and since then famous racers such as Michael Schumacher and Mika Hakkinen have cut their teeth on the event,
It's a particularly challenging circuit, consisting of fast straights, tight corners and unforgiving crash barriers. Along with the New Zealand Grand Prix it is the only non-Formula One event to receive the Grand Prix title.
I was lucky enough to be in Macau in 2016 when the event was on, and managed to find some time to have a look at one of the F3 Qualifiers. Stands are set up at various parts of the course – and you can buy tickets from various outlets over the weekend. The qualifiers weren't that busy – and cost about £5 for a ticket. Definitely worth having a look if you're in Macau when it's on (and be prepared for a bit of traffic rerouting during race weekend – some of the bus routes are rerouted slightly).
The Grand Prix Museum
There is a permanent Grand Prix Museum, which was opened at the 40th Grand Prix in 1993 (it is co-located with a Wine Museum – not sure what message that sends). I haven't visited (as yet) – but will update with some photos next chance I get.
Getting There
Links