Standing proud between Sai Van Lake and the South China Sea, the Macau Tower (Centro de Convenções e Entretenimento da Torre de Macau, 澳門旅遊塔會展娛樂中心) is a great destination for adventure, entertainment or just a stroll along the sea front.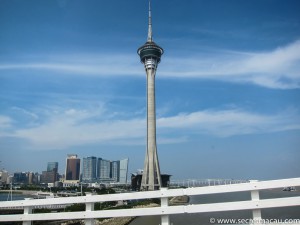 Over 1000ft high, it was commissioned by Hong Kong billionaire Stanley Ho Hung-Sun after he visited the Sky Tower in Auckland. Construction started in 1998 and it opening to the public at the end of 2001.
You can enter the base of the tower for free, where there is a cinema, shops and various cafes. Tickets can be purchased here to take the elevator up to the observation decks and restaurant.
Adventure with AJ Hackett
For the adventurous, AJHackett operate a variety of activities from the Observation platform:
Sky Walk (Not too bad – I'm terrible with heights – but I've done it a couple of times) – where you walk around the rim of the tower, tethered to a line (where you get uninterrupted fantastic views of the city, and china beyond)
Tower Climb
Sky JumpControlled Descent – the tower has the second highest commercial decelerator in the world (after the Vegas Stratosphere skyjump)
Bungee Jump – at 233m it's the highest commercial bungee in the world. You can watch the adventurous taking the jump through the glass around the tower (and watch their last minute preparations in the holding are as they get ready)
For the less adventurous – it's a lovely space to walk around, with glass floors and clear views all around. Back on the ground floor you can take a stroll along the seafront, grab an iced tea in one of the cafes around its base and watch the people bungee from the top.
Getting There
Although possible to walk – it's not straightforward, as it's quite isolated over the other side of Nam Van lake from the Historic Centre. It's only  20 minute walk from the MGM Grand, but it's just down the side of a busy road. I'd recommend taking a bus (or taxi).
Links
Flickr Album

Flickr Album Gallery Powered By:
WP Frank