Bobo is an old Asiatic Black Bear who was rescued from the menu on a restaurant in Macau in 1984 and has been living in Jardim Da Flora ever since.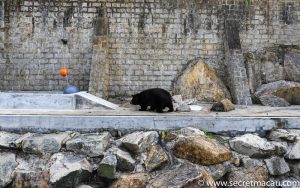 In the summer of 1984 the then Municipal Council of Macau found a one year old Black Bear in a restaurant on Rua Da Felicidade which specialised in 'exotic animal food'.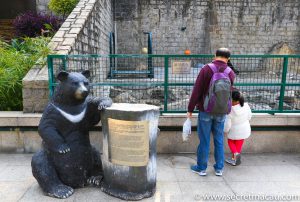 The restaurant was renowned for this, and even used to display some of their animals outside the premises, including Bobo. Obviously in this day and age, and to Western minds, this can seem objectionable, but exotic foods have long been a part of Chinese food culture – and still are in many places. Sharks Fin Soup and Birds Nest Soup are still consumed regularly around the world, Snake drink and soup is available in Macau and Hong Kong, and many more options are available on the mainland.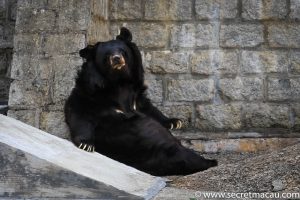 A less well known delicacy is (was, hopefully) Bear's Paw, and Bear's Gallbladders have long been prized in Chinese Medicine for their bile. Indeed, Bear farms are common in China, Vietnam and South Korea where the animals can be raised in horrendous conditions, and in a lot of pain as they can be 'milked' for their bile while still alive (a procedure developed in North Korea to avoid having to kill the bears to help maintain their usefulness).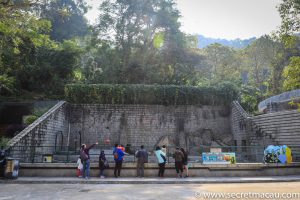 Back to Bobo – so in 1984 the Macau authorities were tipped off about the bear and intervened.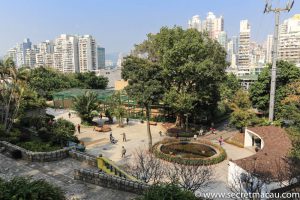 They took him from the restaurant, and built custom accommodation for him in the Jardim Da Flora – a public garden and recreation area at the foot of Guia Hill. It has an outdoor area where the public can see him, and some indoor air-conditioned accommodation. He used to swim in the pool regularly before, but now.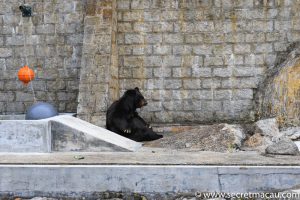 The life expectancy of Asiatic black bears is usually 25-30 years. Bobo is now over 30 so has lived a long (if lonely) life.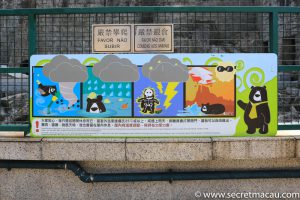 It's a bit difficult to know what to think when you see him now. He's old and arthritic, slow to move and just lay down in his grim concrete enclosure, staring into space. He looks sad, lonely and tired and you can't help but feel for him.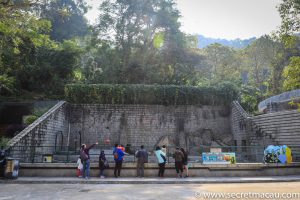 On the (slightly) positive side though, he's lived an extremely long life, is obviously well fed and his coat is still shiny and glossy. Although his enclosure is concrete and a bit depressing,  it's in a nice park, with running water next door and bird and monkey enclosures nearby.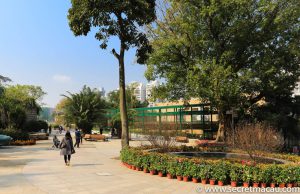 In the earlier days they tried to find a mate for him, but the paperwork to export one from China was too complicated and it never got through.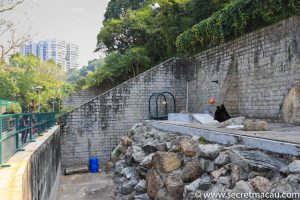 The Macau authorities were planning to move him the to new custom built Panda Pavilion in Coloane, but in the end felt it would be too distressing for him to move at this late stage of life.
Getting There
His enclosure is just inside Jardim Da Flora. If you enter near the cable cars, just tun right once inside the park and the animal section is close by.
Nearby Attractions
Links