City of Dreams (新濠天地) is a casino/resort which stands at the bottom of the Cotai Strip directly opposite the Venetian. It incorporates the Hard Rock, Crown Towers and Grand Hyatt hotels (which together make up the four towers surrounding the main casino and retail area – known as the Boulevard).
It was opened in 2009, and is owned by Melco Crown Entertainment (who also own the newer, and larger Studio City further up the strip).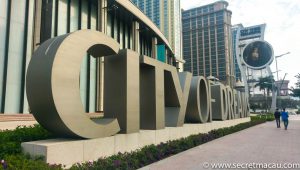 It's main attractions (aside from the casino and high-end shops) are the Vquarium, Bubble Fountain and the Dancing Water Theatre.
Water is a key theme running through these attractions. The Vquarium is an installation made up of four video walls (19m wide and 6.7m tall), behind which sit a rear projector which displays images on the wall. Water cascades down the acrylic front enhancing the underwater scenes that are projected.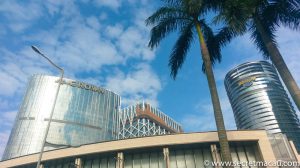 The Bubble Fountain is a large water sphere which sits in the main retail area. 2.4 m in diameter, a hole in the top allows water to be pumped out, which cascades down and wraps around the outside of the sphere into a pool below.
The big draw of the City of Dreams is the Dancing Water Theatre. This theatre contains one of the largest commercial pools in the world (holding approximately 14,000m3). It is built in the theatre in the round stye, with the seating covering 270 degrees on 3 sloping sides. It has a 40m high trussed space allowing for some high level acrobatics above the water.
The current show is The House of Dancing Water (run by the Franco Dragone Entertainment Group). It opened in September 2010, and won the 2012 Thea Award for Outstanding Achievement for a Live Show Spectacular.
Getting There
Free Casino Shuttle Buses – the main casinos operate free shuttle buses from the ferry terminals, border gates, and airport (and between casinos owned by the same groups). This is a great way to get around – just queue up and hop on, no questions asked. They are usually not too busy, but be prepared to queue a long time on busy holidays (like Chinese New Year).
Buses: 15, 21A, 25, 26, 26A, 50, N3
Nearby Attractions
Links