The Parisian (澳門巴黎人) is a stunning new Casino on the Cotai Strip – notable in no small part to the half-scale replica of the Eiffel Tower that stands in front of it.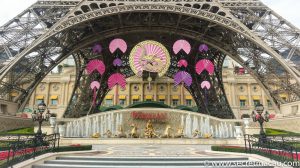 It is owned by the Las Vegas Sands group (like the nearby Venetian) and officially opened in 2016.
Like the Venetian, it is a themed hotel/casino, modeled on Parisian style (or a slightly gaudy, mock version of it). It is all exceptionally well done though – it's immaculate throughout and has a slightly more upmarket feel than it's sister, the Venetian (perhaps because its newer, and maybe slightly less crowded). However, it still manages to appeal to the mass market of tourists who are looking for more of a themed day out than perhaps a specific casino destination (which is more what Macau's entertainment industry is transitioning towards moving forwards).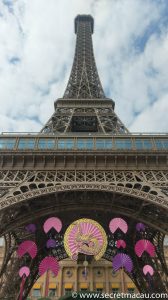 Obviously the main draw is the 525 foot half-scale replica of the Eiffel Tower at the front of the complex. There are observation decks on the 7th and 37th floors of the tower, and a restaurant. There are charges to access the observation decks (you can pay at the shop by the entrance inside the main building), but deals are available if you wanted to combine a visit to the tower with lunch or an evening meal.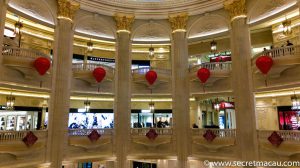 There is also a light show at the tower every 15 minutes after 6:15pm each day.
Inside, like all casinos on the Strip, there are a wealth of shopping and eating opportunities in some beautiful surroundings. I'd say the Parisian is a touch more elegant (in its own way) than the Venetian, and more spacious inside. It's possible to visit them both while walking in air-conditioned cover via the Shoppes at Four Seasons complex which joins them all together.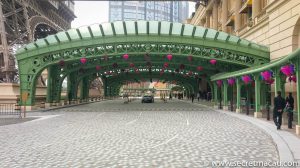 It's also just a short walk outside and over a road to get to Studio City which sits next door.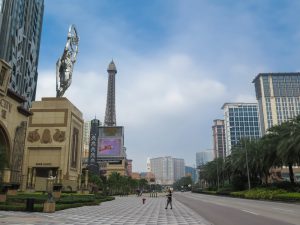 The whole building is particularly impressive at night, but at any time it's worth a stop off for some great photo opportunities whether you are visiting or just passing through the Strip.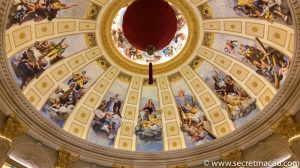 Getting There
Free Casino Shuttle Buses – the main casinos operate free shuttle buses from the ferry terminals, border gates, and airport (and between casinos owned by the same groups). This is a great way to get around – just queue up and hop on, no questions asked. They are usually not too busy, but be prepared to queue a long time on busy holidays (like Chinese New Year).
Buses: 15, 21A, 25, 26, 26A, 50, N3
Nearby Attractions
Links