If you arrive in Macau by ferry from Hong Kong – the impressive bright red Sands Casino sign, logo and hotel tower are probably the first things that catch your eye as you pull into the Outer Harbour Ferry Terminal (at least if it's dark as you approach).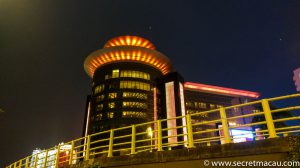 Opened in 2004 at a cost of $240m, it is owned by the Las Vegas Sands Corporation.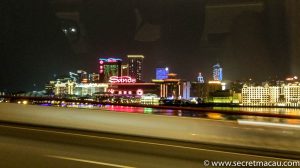 I've only been inside once for dinner at the buffet restaurant above the casino floor. It all feels a bit more dated than the newer casinos on the strip (unsurprisingly, given it's age) or the Wynn or MGM, and without the older charm of the Lisboas. However, the casino floor itself is pretty impressive – especially if you go up to the balcony and view it from above. It's dominated by a giant chandelier and screen showing the entertainment on the stage behind the bar area (a singer/dancer was up while I was there), and the giant casino floor has a bit of a sci-fi movie feel to it.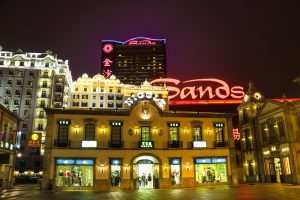 There are shops, but I didn't pay them much attention – this casino really does seem to be geared toward the gambler than casual tourist (as you might expect given that was more the focus of the entertainment when it was built).
I wouldn't recommend going out of your way to take a look, but if you are at the nearby Fishermans Wharf – it would be worth taking a venture inside – especially if you like a gamble (or if not, just to take a look at the casino floor).
Getting There
Free Casino Shuttle Buses – the main casinos operate free shuttle buses from the ferry terminals, border gates, and airport (and between casinos owned by the same groups). This is a great way to get around – just queue up and hop on, no questions asked. They are usually not too busy, but be prepared to queue a long time on busy holidays (like Chinese New Year).
You can also hire a Mercedes Limo pickup for around MOP 450 if you want to arrive in style.
Nearby Attractions
Links