Clube Militar de Macau
The Portuguese Military Club was, as the name suggests, originally a club for military officers. The Portuguese neo classical building it was housed in dates from the 19th century. Originally designed by the Baron of Cercal to provide social facilities and entertainment to Portuguese officers. With balconies, louvred windows and a mix of european and chinese decorations, it was re-opened as a restaurant in 1995.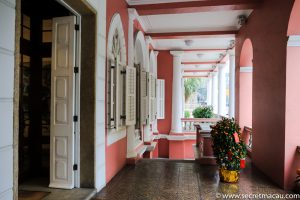 The club itself is members only, but the dining room is available to members of the public for lunch and dinner after 2pm.
Smart, semi-formal wear is required, but the atmosphere is pretty relaxed. It's not cheap, but still pretty reasonable. There is a reception desk just inside the doors where you can find out more and make a reservation.
We tried the buffet lunch menu once and would definitely recommend it – the food was really good, and the whole ambience and decor of the place takes you back to Macau's colonial past. Staff were friendly and it was nice just to have a look around the inside of the building.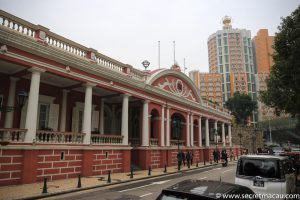 Getting There
It's close to the centre – virtually next to the Grand Lisboa Casino, and a short walk from Senado Square. It is next to the a small garden area (St Francisco Garden) – which is nice for a stroll around, with shaded reading areas.
Buses: 3, 3A, 8, 10, 10A, 10B, 12, 23, 25, 28A, 28BX, 28C, 32
Nearby Attractions