The University of Macau (Universidade de Macau,澳門大學) is the only public comprehensive university in Macau. There are 7 academic facilities and 10 residential colleges. The main medium of instruction is English, with some classes taught in Chinese, Portuguese and Japanese.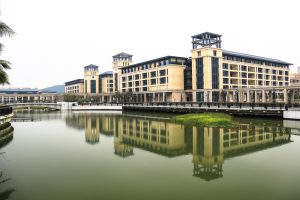 The University is built on Hengqin island, which is part of Zhuhai prefecture on mainland China. It lies just on the other side of the Shisanmen Waterway and is easily visible from Taipa, connected via the Lotus Bridge.
Hengqin itself was formerly made up of two islands – Xiao Henqqin and Da Hengqin which, along with the island of Wanzai used to be claimed by Portugal as part of the Provincia da Macau, which occupied them briefly before World War II.
Following land reclamation, Hengqin is now a single island. Macau has expressed interest in expanding there as land within Macau itself is very limited. Agreement was reached in 2009 to construct a new University campus on 1km2 of the island, just south of the current border post and just over the water from Cotai.
A tunnel under the Shisanmen Waterway joins the university to the Taipa. It is not necessary to pass a border post and Macau law operates on the campus.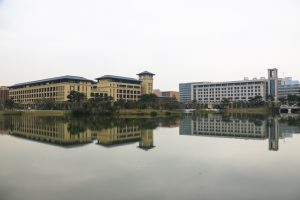 I wouldn't place a visit to the University high on any list of places to see in Macau, but if you are interested to have a look around – the campus itself is lovely, with lakes in the centre. It is quiet, and there are large pedestrianised areas making it suitable for kids to play around. There is a coffee shop by the lake.
Getting There
Links