Chinese Octagonal Pavilion Library
Built in the 1920's, this was Macau's first Chinese library and the first library opened to the public. It was built with funds raised by the community to help promote literacy in the Chinese community. Its full name is the Reading Room of the Macau Chamber of Commerce, but it is more commonly known as the 'Octagonal Library', or 'Octagonal Pavilion Library'.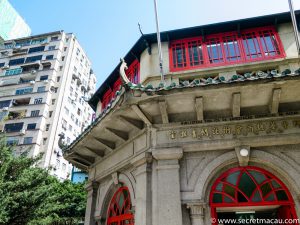 Over the years it has served a variety of purposes – including eating and playing snooker. It was purchased in 1947 by the then vice president of the Macau Chamber of Commerce, Mr Ho Yin, and handed over to the Chamber who transformed it to its current function – a reading room.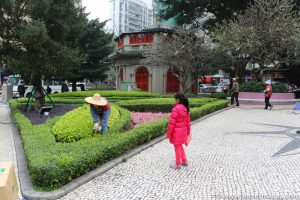 Due to it's central location – I've walked past it numerous times, but never ventured inside (it never looked open whenever I passed) – but I believe you can go in to read magazines and papers (in Chinese, I would imagine).
Use in Movies
The Octagonal Library featured in 'Dragon: The Bruce Lee Story' (1993) – when Bruce (Jason Scott Lee) is carried by his fans out of the Cineteatro to celebrate his new film 'The Big Boss'.
Getting There
Buses: 3, 3A, 8, 10, 10A, 10B, 12, 23, 25, 28A, 28BX, 28C, 32
Nearby Attractions
Links