Kun Iam Statue & Ecumenical Centre
The beautiful gold Kun Iam statue (大三巴牌坊) stands on a small island jutting into the Outer Harbour between Macau and Taipa, along Avenida Dr. Sun Yat-Sen.
It's a lovely spot to stop off, take some photos and admire the view across the bay to Taipa. It's not that easy to get to directly, but it's an easy walk from MGM Macau Casino or the Macau Science Centre.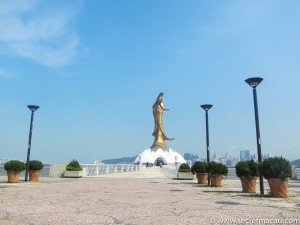 The statue is dedicated to Kun Iam, the Chinese Buddhist goddess of mercy. It stands on a lotus-shaped dome, beneath which is the Kun Iam Ecumenical Centre – which contains a small exhibition and some literature on Buddhism, Taoism and Confucianism. Entry is free.
Getting There
Nearby Attractions