The small Sam Seng Kong Temple in Coloane was built in the late Qing Dynasty  (Tongzhi 4th year – 1865).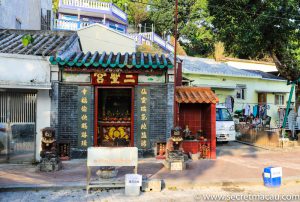 It also goes by the name 'Jin Hau Temple'.
There are three gods consecrated in the temple – Kam Fa (Lady of Golden Flowers), Kun Iam (Goddess of Mercy) and Lord Va Kuong.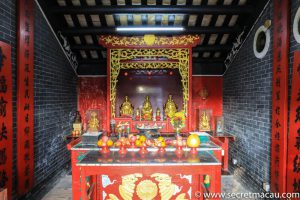 Kam Fa (Lady of Golden Flowers)
Kam Fa was one of the daughters of the Kam family from Panyu, China. She was always called on to help when expectant mothers had difficult labours. Distraught at not being married when she reached adulthood, she drowned herself in a local lake. Seven days later, a piece of sandalwood resembling the princess was spotted floating on the lake. The locals built a 'Small Temple of Lady of Golden Flowers' was built for its veneration.
The feast of the Lady of Golden Flowers falls on the 17th day of the 4th lunar month. Before that date, temples put up red written nots to reming devotees to celebrate her feast day.
Lord Va Kuong
Lord Va Kuong is the god of young children (sometimes called Numinous Officer Marshall Ma or Numinous Light of the Three-Eyed). Devotees would often ask him to look after their son or daughter.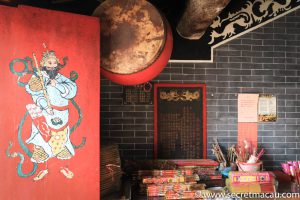 The temple underwent restoration work in 1988 by the Charitable Association of the Four Temples of Coloane.
Getting There
It is located very close to Lord Stow's Bakery and Garden Cafe –  along Rua dos Navigantes on the main street.
Coloane Village is pretty small – there are only a couple of bus stops ('C659 – Villa De Coloane – 2', and 'C660 – Villa De Coloane – 2') – hope off at either of these and it's easy to explore the rest of Coloane on foot.
Buses: 15, 21A, 25, 26, 26A, 50, N3
Nearby Attractions