The Sin Fong Temple is dedicated to General Vanguard (Yang Ye) who was a famous general originally from the Northern Han Dynasty, who now is a deity which protects against aggression.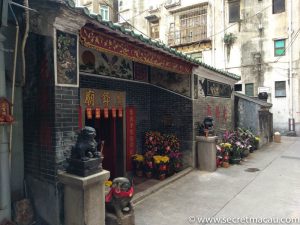 The area used to known as Lou Dou Seng, located outside Mong-Ha village, close to Mong-Ha Hill, which was a fishing village built up along the old waterfront. At that time the city was undergoing various upheavals and the local officials proposed to construct a temple to General Vanguard. This idea was supported by the fishing households who all donated money for its construction.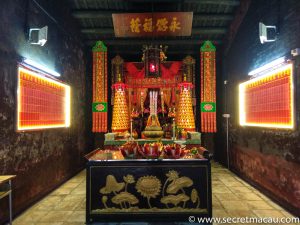 The walls of the Sin Fong Temple show murals from stories in the famous Chinese novel 'Romance of the Three Kingdoms'.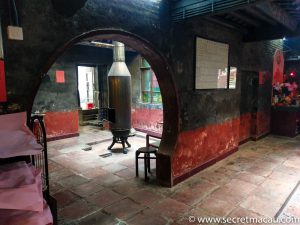 It is just a small temple, but has two beautiful alters in two small rooms separated by a round door inside. It is smaller and more intimate than the nearby Lin Fung Temple, and was virtually empty when I was there.
General Vanguard
When the Han Kingdom was incorporated into the Song Dynasty, Emperor Taizong appointed Yang Ye to be the general in charge of defending the land against the nomadic Khitan people.
In 986 the Emperor ordered an offensive to wipe  out the Khitans to be fought on three fronts. Yang Te and Pan Renmei were to command the western front. However, during the expedition Pan plotted against Yang which resulted in Yang's death at the Battle of Chenjin Valley.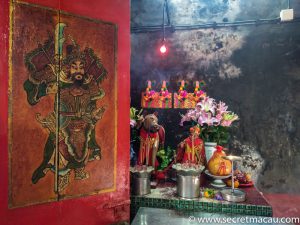 The feast of General Vanguard falls on the 6th day of the lunar month each year.
Getting There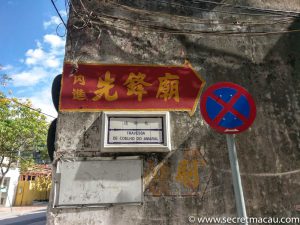 The temple is hard to miss, being located at the end of an small street/alley (Travessa de Coelho do Amaral). A large sign in chinese characters at the entrance to the alley points the way.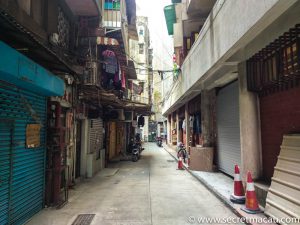 Address: The intersection between Patio de Coelho do Amaral and Travessa de Coelho do Amaral
Buses: 1, 3, 6, 8, 8A, 16, 28B, 28BX
Nearby Attractions